In the Gift Card Management activity, you can view gift cards, bulk generate gift cards, and deactivate or delete gift cards.
Deactivate or Delete Gift Cards
Toggle Active and Toggle Deleted - Highlight the gift card by clicking on the row with the gift card and select Toggle Active or Toggle Deleted.  Inactive gift cards and deleted gift cards are similar.  Gift cards cannot be used if they are deleted or deactivated.  The only difference between the two options is that deleted records do not show up in the gift card table unless you check Show Deleted Records.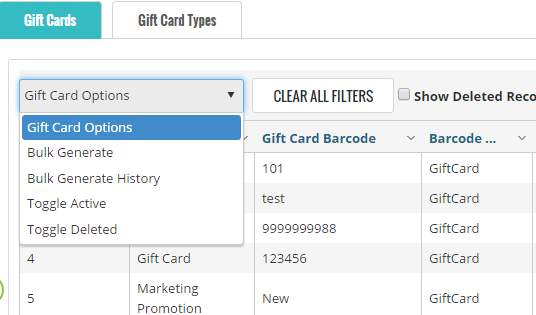 View Gift Card Details
The gift card shown below was created as an example to show what details display in the gift card table in Gift Card Management.  The Gift Card must be paid for before it will be recorded in the gift card table.

In the Gift Card Management Activity, the new gift card with details such as barcode, current balance, original balance, and expirations date will be shown.  Most employees will not have access to the Gift Card Management Activity.
The example below shows how the table reflects the change in the Gift Card balance after Gift Card 654321 was used for an $8 order.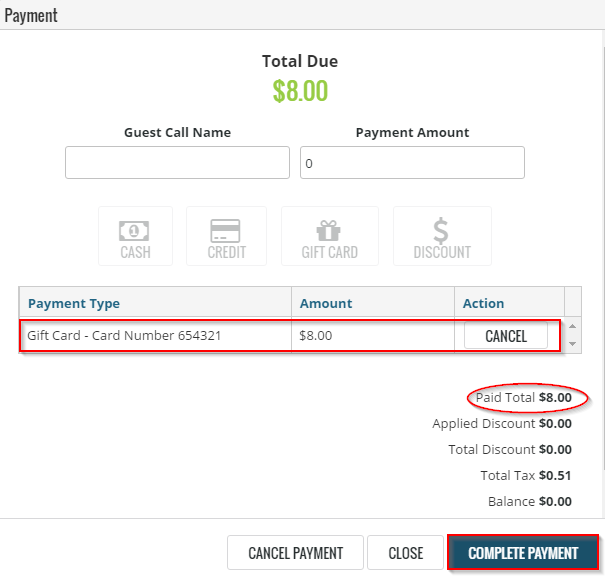 The remaining balance on the gift card will show on the receipt.
The current balance will also show in the gift card table as shown below.