3 Simple Steps for trouble shooting
1. Check the Power
If your cash drawer requires power check that the power cable is secure and plugged in.  Some cash drawers have a green light that indicates if it is powered.  This is usually located on the back of the cash drawer.
2. Check the Connection
If the connection is a direct serial connection to the computer check that the plug is flush with the port.
If the connection is a telephone wire connected to a receipt printer first check the receipt printer (see receipt printer section). Then check that the telephone wire is securely connected to both the cash drawer and the receipt printer.   Loose connection cables can cause a lot of intermittent issues, please replace your cable if either end is not secure.
3. Restart the Aluvii Service 
Open the Windows Service App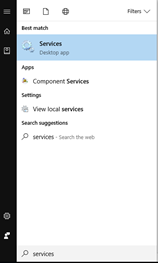 Locate the service named Aluvii Peripheral Gateway.  Restart the Service.
Additional Help
If the steps outlined above do not fix the problem, please search for the hardware support guide in the Aluvii Support site for more information.